About Visual Plants
Visual Plants is a scientific database for the visual determination of plants and, hopefully, for aesthetic pleasure.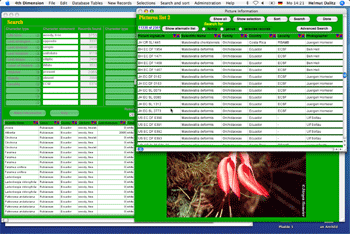 Visual Plants is a program based on a relational database. With this program you can add all relevant information about plant specimens and plant species with attached digital images into the database.
The program can be used for the visual determination of plants and has a tool included for the rapid determination of plants using vegetative characters which are always available from the specimen in your hand.

Which operating systems?
Visual Plants can be used on Windows computers with Win 98, Win 2000, Win NT and Win XP. It can be used on Apple computers with Max OSX. Functionality and look and feel of the program is identical.
It runs fast on all modern computers and displays the images, which are placed in a separate folder on your hard disc. It is recommended to have more RAM as usual in your computer.
Language?
The program and all dialogues are written in English. All information is also stored in English. Why? The reason is, that the program is used in different countries (e.g. Kenya, Costa Rica) and the information is shared by the members of the research groups.